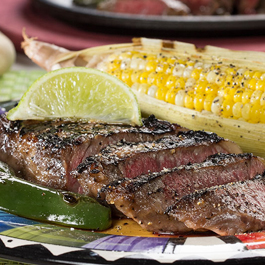 Courtesy of Mr. Food Test Kitchen
Servings: 4
Prep Time: n/a
Cook Time: 8 Min.
Marinate: 2 Hr.
* 1 (12-ounce) can frozen margarita mix, slightly thawed
* 4 boneless beef strip steaks, cut 3/4-inch thick
* coarse black pepper for sprinkling
* 1 tsp. coarse (kosher) salt
1. Place margarita mix in a large resealable plastic bag or baking dish; add steaks, seal or cover, and marinate in the refrigerator at least 2 hours.
2. Preheat your grill to medium if you want to make these outdoors, or a grill pan or skillet over medium heat to make them inside. Sprinkle both sides of steak with pepper.
3. Cook steaks 4 to 5 minutes per side for medium, or until desired doneness. Remove steaks from grill and sprinkle evenly with coarse salt; serve.

Recipe and Image from the Mr. Food Test Kitchen
© 2018 Ginsburg Enterprises Incorporated. All rights reserved.